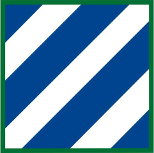 Attention all Society members, Active Duty Soldiers, Veterans, Retirees and Gold Star Families - In commemoration of the 100th Anniversary of the 3rd Infantry Division, our Society is sponsoring a new book, HISTORY OF THE 3RD INFANTRY DIVISION, which will provide a detailed history of the "Rock of the Marne" and feature biographical narratives of the men and woman who have served our country since 1919.
Acclaim Press, one of our nations leading publishers of commemorative history books, has been commissioned to oversee this landmark project, and the book is being written by a team of our Society's most prominent members.
In addition to the Divisions' colorful history, this exciting book will feature a special section showcasing biographies of 3rd INF DIV Veterans, with "then and now" photographs and YOU are invited to be included in this book. There is NO COST to have your biography or story of your service included in this book!
Click on the link to get our information pamphlet that has more detailed information on how you can participate in this once in a lifetime opportunity!
Click this link to purchase your book TODAY!